Does this grocery cart make me look fat?
If you had to look at yourself in the mirror while shopping, would you make better choices?
If you're trying to eat more healthfully but the allure of the candy aisle still trumps the attraction of the produce section, the last thing you want is a mirror in front of your guilty face while you're reaching for the bag of Twizzlers. At least, that's what produce marketers hope.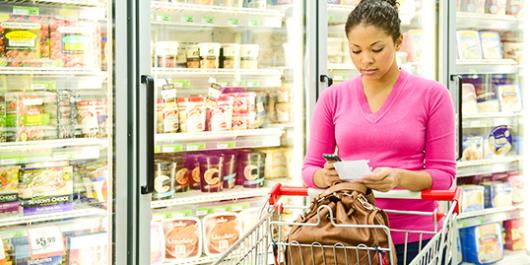 In an effort to get Americans to put down the doughnut and steer their carts toward greener pastures, a couple of scientists thought it might help to put a giant mirror at the front of grocery carts — a mirror that says, "Yes, that's you and only you who's responsible for what you see right here."
If you like what you see, congratulations. Fix your hair and get on with your shopping. But if that reality check isn't too flattering, maybe it's time to put a fruit or veggie in that cart and start making more healthful choices.
Researchers have discovered that people, in general, don't like being hit on the head with threats of diabetes and slapped with taxes on junk food to get them to eat more healthfully. So instead, they're using slightly subliminal tactics — and they work.
The mirror idea came about when Mihai Niculescu, 37, combined his business marketing experience with research done by others on self-image. He says his own formidable belly gave him an insider's edge when studying the marketing cues that lead to overconsumption.
"I don't realize I'm overweight until I look at myself," he said in a story reported by The New York Times.
Niculescu and his colleague, Collin R. Payne, a 38-year old associate professor, are using this tactic, dubbed "nudge marketing," to apply just the right amount of pressure — not too much, not too little — to steer shoppers in a better direction.
The effectiveness of the mirrors, currently being tested in Lowe's grocery stores, remains unproven, but a similar tactic proved successful: A yellow strip of duct tape divided baskets in half, and a flyer instructed shoppers to place their fresh produce in the front half of the cart. The average produce sale more than doubled. In a separate experiment, green arrows on the floor successfully lured shoppers to the produce aisle.
While these tactics create positive results, be aware of similarly effective ploys that may steer you to the dark side: Displays that are free-standing, at the ends of aisles or at the checkout line can cause you to mindlessly buy extra liters of soda and bags of chips not on your list.
Avoid the mind games by making a list and sticking to it before you hit the store.
More from MSN Healthy Living:
Why women should shop in heels