Eat THIS at breakfast to lose weight fast
Peanut butter in the morning can help curb your appetite throughout the day.
All right peanut butter lovers, you can feel a little less guilty about swiping spoonfuls straight from the jar. Eating peanut butter or peanuts for breakfast can help stabilize your blood sugar and curb your appetite throughout the rest of the day, according to a recent study published in the British Journal of Nutrition.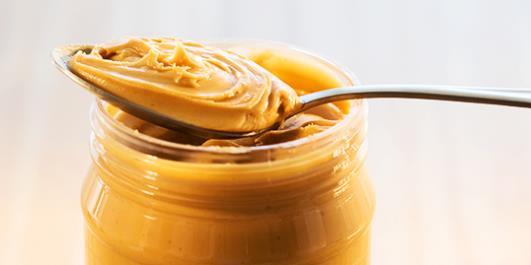 The study participants consumed either 1.5 ounces of peanuts, 3 tablespoons of peanut butter, or no peanuts or peanut butter alongside a breakfast of orange juice and cream of wheat. Those who ate either peanuts or peanut butter reported feeling less hungry later in the day, and blood test results indicated that these participants also maintained lower blood sugar, even following a high-carb lunch.
The researchers attribute these results to the high protein, fiber and healthy fat content in peanuts, saying that these three components work together to contribute to a feeling of fullness.
"Combined with findings from other work, this new research provides additional reasons to start your day with peanut butter and include a snack of peanuts in the late afternoon if you want to control your appetite and blood sugar too," said Pat Kearney, RD, program director for The Peanut Institute, in a press release.
But before you dive in with your spoon, check out a few of our favorite ways to enjoy the sticky stuff. Just make sure you're consuming it in moderation (a serving is 2 tablespoons) and opt for natural peanut butter. Commercial varieties may contain excessive amounts of sugar or sodium that could negate the snack's health benefits. (Don't know where to start? Here are a few healthy peanut butter brands.) 
Brown rice cake with peanut butter
(1 rice cake, 2 tablespoons nut butter)
A brown rice cake has about 35 calories, which makes an extra light and airy foundation for your snack. Improve the nutritional value by spreading peanut butter on the cake. For an added flavor boost, drizzle on a little honey or sprinkle chocolate chips on top. (Find more healthy grab-and-go snacks.)
Banana with peanut butter
(1 medium banana and 1 tablespoon peanut butter)
These two foods go together so well, we like to think of them as the Brangelina of snacking. Not to mention you'll bolster your health with the banana's potassium, magnesium, and vitamins B6 and C. You'll also get a dose of heart-healthy fats from the peanut butter. (Check out additional snacks under 200 calories.)
New ants on a log
(2 celery sticks, 2 teaspoons crunchy peanut butter, 1 tablespoon California raisins)
Fill two celery sticks with crunchy peanut butter and top with California raisins. Raisins add fiber and natural no-added-sugar sweetness. Peanut butter adds staying power with nutritious fats and protein, while celery adds low-calorie bulk and has a high water content.
"Chocolate love"
(1 teaspoon natural peanut butter, 1 1x1-inch square of dark chocolate)
This tasty treat clocks in at only 56 calories. Slather natural peanut butter onto one square of dark chocolate. This intensely flavored bite of deliciousness will satisfy your craving for chocolate, sweets and creaminess. The darker the chocolate, the better, as it supplies more beneficial polyphenols and less added sugar than milk chocolate.
More from Fitbie:
Unexpected foods you should throw on the grill