Healthy snacks for football season
We're big fans of these lower-calorie options for game-day parties.
I grew up with a father who jumped around and yelled at the TV during football games as if he owned the losing team. He probably burned as many calories cheering during the game as the actual quarterback did.  Surprisingly, he never ate chicken wings or any other typical football food to help fuel his high-octane activity.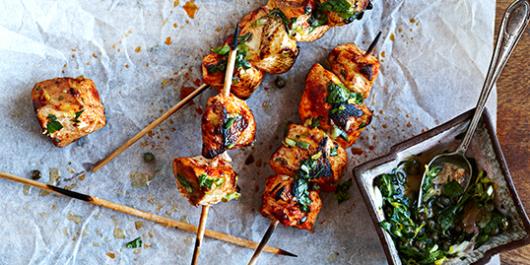 In fact, the only snack foods I remember our family eating during Sunday football games were miniature frozen toaster-oven pizzas, which likely contained more chemicals than the box they came in. Tiny pieces of mystery meat (allegedly pepperoni) topped each one, and I loved them.  Now they gross me out, but not as much as some of the fat-laden modern snacks of today's football parties.
The amount of Buffalo wings, potato skins, pigs in blankets, pizza, guacamole, ribs, crispy appetizers and beer consumed at some football parties likely rivals the caloric intake for an entire football team in a season. The Calorie Control Council found the average armchair quarterback will eat 1,200 calories during Super Bowl Sunday—not including meals.
But if your seasonal goals include not looking like a retired linebacker come January, you need to use a little caution. Here's a round-up of delicious, low-fat options to try this season.
Pigs in a blanket:
Use reduced-calorie rolls and hot dogs, or turkey dogs.
Salsa:
Use in place of mayonnaise-based dips to save hundreds of calories and fat grams.
Greek yogurt:
Use in place of sour cream for dips. Greek yogurt offers the same flavor at a fraction of the calorie tally.
Fresh fruits and veggies:
Use for dipping in place of fried nacho chips (or, realistically, in place of some nacho chips).
Grilled chicken kebabs:
This tasty, lower-calorie variation on fried chicken wings saves tons of fat grams.
Sorbet:
Fat-free sorbet satisfies your sweet tooth at a fraction of the calories of ice cream, clocking in at around 90 calories per half-cup serving.
Fat-free microwave popcorn:
At only 90 calories for three cups, and a whole grain to boot, popcorn can't be beat for crunch appeal.
More from MSN Healthy Living:
It's the water bottle of the future
Unwrap the secret to eating less candy
Can I get the same health benefits of fish from fish oil supplements?

I love the way the author complains about "chemical laden" ingredients, then the first suggestion is a recipe with reduced calorie rolls and turkey dogs, both of which are more chemicals and preservatives than they are food.  I'll take grilled wings with franks sauce and homemade guac any day over some of the nasty junk suggested here.  
Guess what Linda, anytime a food is labeled as "fat free" they generally add a bunch of chemicals and sugar in it to make up the flavor.  Besides, if you eat well the other 20 meals in a week, you can indulge yourself the other one meal.  
Are you sure you want to delete this comment?