Do gay parents raise healthier, happier kids?
A new Australian study shows that there's a big happiness and health advantage to children of gay parents.
Are Cam and Mitchell of "Modern Family" among the best parents ever? According to a new and already controversial Australian study, the children of same-sex parents – Cam and Mitchell are little Lily's two dads – are measurably healthier, happier and more well-adjusted than children of heterosexual parents.
The Study of Child Health in Same-Sex Families, conducted at the University of Melbourne, examined 500 children ages 1 to 17. It showed that children with same-sex parents scored far higher for general health and family cohesion than did children of heterosexual parents.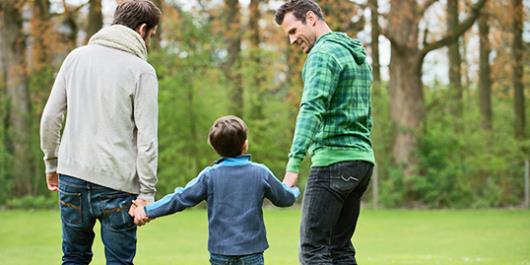 In fact, the study's authors said, children of gay parents scored so much higher for general health that such a difference could occur by chance less than one in 10,000 times.
In other areas, including self-esteem, emotional behavior and the amount of time spent with parents, the researchers found no significant difference between children of homosexual or heterosexual parents.
The Melbourne researchers are still studying the underlying reasons why the children of gay couples would score so much higher in health and family cohesion and stability, but one of the study's authors has a theory. Dr. Simon Crouch told the Sydney Morning Herald Thursday, ''Because of the situation that same-sex families find themselves in, they are generally more willing to communicate and approach the issues that any child may face at school, like teasing or bullying. This fosters openness and means children tend to be more resilient.''
The Australian findings come just days after another major study out of England showed that children adopted by gay couples do just as well as those adopted by heterosexual couples. A study at the University of Cambridge's Centre for Family Research found that children with gay parents are not disadvantaged and that most are not victims of bullying.
Scientist Susan Golombok, director of the center and report co-author, told the Daily Mail, "The anxieties about the potentially negative effects for children of being placed with gay fathers seem to be, from our study, unfounded."
The political debate over same-sex marriage will no doubt continue, but from a mental- and physical-health standpoint, at least, these studies seem to show that the kids, in fact, are all right.
Foster kids and same-sex parents

Me, married for 42 years and straight.  Have I qualified myself yet?
I believe a child raised by a gay couple has a much better future than one raised by a single mom.
One mom, one controller, one dominant and never changing force.
A single mom's decision or rule is absolute and final.  The child has no friend in the storm..
A child raised by two parents whether gay or straight together will show the child, children the art and skill of debate, compromise and affection.
A child needs to see adults that love each other.
A child needs to see that a problem can be resolved with compromise and debate.
A child needs to have hugs and shelter from the "other" parent when they've been scolded
by one.  Kind of good cop, bad cop.  One can discipline and the other explains the cause and effect
of not listening or doing something wrong.
Are you sure you want to delete this comment?