What's really in your green tea?
Study finds that not all brands pack the much-touted benefits.
To be honest, I've never been a big fan of green tea. But I occasionally drink it anyway since I'm always hearing about how healthy it is. The conventional wisdom is that it's absolutely packed with antioxidants, and thus practically guaranteed to help prevent cancer, heart disease, diabetes and lots of other bad things. Whether I like the taste or not, I certainly feel very virtuous every time I pour a cup of it.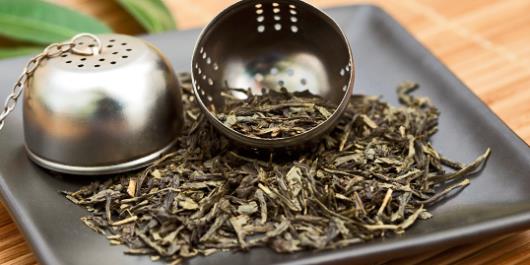 However, it's possible that the tea I've been drinking is actually doing nothing good for my health -- and maybe even has the potential to do some harm. The latest news shows that not all green teas are created equal. A report just released by an independent laboratory found that some teas do indeed contain high levels of the good-for-you antioxidant epigallocatechin gallate (EGCG for short), while others have virtually none of it. More worrying, ConsumerLab.com, the lab that did the tea analysis, found that some green tea leaves are actually contaminated with lead.

The lab conducted four phases of testing -- looking at the EGCG levels in bottled iced green teas, loose tea leaves, tea bags, and then also tested for lead content in green tea leaves. They found wide variations in the amount of EGCG in tea bags, loose tea leaves and bottled iced teas -- from just 4 milligrams per serving, up to 86 milligrams per serving.

Some brands did not fare well in the testing. Diet Snapple Green Tea showed barely a trace of those healthy EGCGs. And while Honest Tea's Green Tea With Honey did have some EGCG, the lab found that it contained only about 60 percent of what the label claimed (plus, a serving of this bottled iced tea also packs a whopping 18 grams of sugar).
 Tea bags from Lipton and Bigelow turned out to both be worthwhile (and relatively inexpensive) sources of potent antioxidants. But they are also carrying something possibly not so healthy. The lab found that both brands' bags contained 1.25 to 2.5 milligrams of lead per serving. Apparently, industrial pollution in places like China (where much of this tea is sourced) can lead to increased lead levels in plants. As worrying as that sounds, however, the analysts found that even after brewing, the resulting tea contained little, if any, lead (seems that the bag filters out the danger).

So I guess I won't necessarily stop drinking green tea on occasion, but I'll no longer feel terribly guilty if I go for a latte instead.

More on Healthy Living:

Coffee's link to obesity
Stressed-out people rated less attractive
Why women live longer