The health risks of "holding it"
Rand Paul's 13-hour filibuster ended when he could no longer ignore nature's call.
When Marco "Poland Spring" Rubio took the Senate floor and advised the filibustering Kentucky Sen. Rand Paul (R) to "keep some water nearby, it might come in handy," the question had to be asked:
How long could he hold it?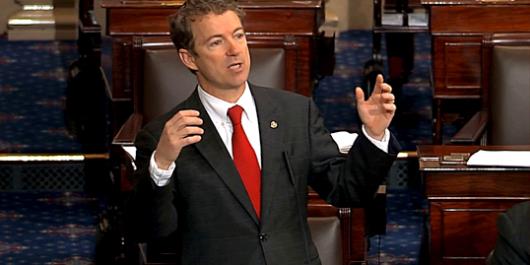 Paul's epic filibuster ended to laughter at 12:39 a.m. Thursday when he indicated his need to answer nature's call: "I've discovered that there are some limits to filibustering, and I am going to have to take care of one of those in a few minutes here."
The average person urinates seven times a day. As someone who has the bladder of a heavily pregnant woman (and I'm not pregnant), I can't imagine holding it for half an hour, much less half of a 24-hour day.
So I had to wonder, what did Paul have to eat or drink during his nearly 13-hour filibuster? He must have been thirsty after all of that talking, right? According to NBCNews.com: 
Over six hours after beginning the filibuster, a visibly tired Paul could be seen eating what appeared to be several pieces of candy in between sentences. At one point, Sen. Mark Kirk, R-Ill., set a thermos and an apple on his desk. 
A typical bladder can hold approximately 14 ounces of liquid – about the size of a water glass. Holding urine in can stretch your bladder, leading to some unpleasant health consequences, including:
Inability to empty bladder fully

Loss of bladder control

Bladder infection

Kidney infection

Urinary tract infection
But can it actually cause your bladder to burst?
It's unlikely, of course, but there's at least one historical precedent in the Danish astronomer Tycho Brahe, whose overly full bladder – and excessively good manners – apparently killed him after he stayed too long at a banquet for fear of being impolite.
So whatever your politics, hats off to Paul for his stamina and eventual common sense that got him off the floor and into the bathroom. It brings a whole new meaning to Thursday night's trending Twitter topic: #StandWithRand.
More from MSN Healthy Living
Bladder training tips to reduce bathroom tips