What your workspace says about you
Whether your desk is clean or messy, both can have psychological advantages.
When I went downstairs to my home office today, the piles of paper and other clutter on my desk were too much to deal with. So I whisked my laptop away to my perfectly clean and uncluttered dining room table to sit and write. And maybe, having those two, starkly contrasting options is actually a good thing.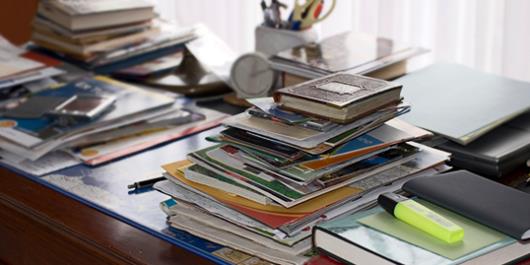 According to new research just published in the journal Psychological Science, there are benefits to working at a clean desk as well as to working in a total mess.

Researchers at the University of Minnesota conducted a series of experiments to look at how people functioned in different types of workspaces. The first one involved two groups of people -- one group sitting in a tidy office, the other in a messy one -- filling out questionnaires. When they were done, the participants in both groups were given a chance to make a charitable donation and they were offered a snack of either an apple or some chocolate.

The results showed that those who'd spent time in the clean room consistently gave more money to charity and chose the apple over the chocolate on their way out, compared with those who'd been in the disorderly space.

Based on that, you might think, okay, I'm going to clean up my desk right away since it will obviously make me into a more virtuous person. Well, it might, but don't be too quick to do away with your office clutter. The researchers also conducted a second experiment to see if there were any advantages to working in a disaster zone. And it turns out, there are.

This time, the two groups of subjects (again, one group was in a clean room, the other in a messy one) were asked to generate ideas for new uses for ping pong balls. While both groups came up with about an equal number of ideas, impartial judges rated the ideas from the messy-office group as more creative and interesting.

"Disorderly environments seem to inspire breaking free of tradition, which can produce fresh insights," said Kathleen Vohs, the lead researcher, who concluded that messy rooms inspired more creativity.

So maybe I should go back to my messy desk to get my creative juices flowing. Even if it will make me want to eat chocolate for lunch.

More on Daily Apple

Teen fights can damage IQ
No such thing as sex addiction
Caffeine withdrawal is a mental disorder