Cows eating "candy" corn
Farmers look for cheap alternatives to corn feed, but are there health consequences?
Candy for breakfast, lunch and dinner might be a 5-year-old's dream, but it's the new reality for dairy cows in some parts of the country. Reuters reports that this summer's drought has driven up the cost of corn feed, forcing farmers to look for cheaper and more plentiful alternatives. And they've found them in the form of gummy bears, marshmallows and even cookies.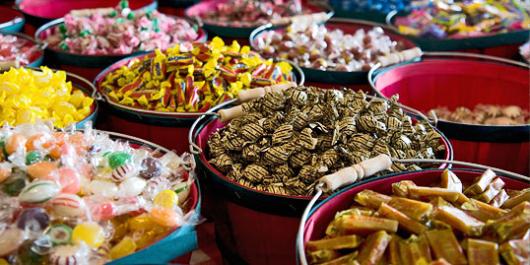 It's Halloween every day on Mike Yoder's farm in northern Indiana, where his herd of 450 cows feasts on a colorful mix of candy sprinkles—the kind usually seen atop birthday cakes and ice cream sundaes. These treats provide an adequate substitute for the starchy sugar content cows usually get from corn. 
Ki Fanning, a nutritionist with Great Plains Livestock Consulting in Eagle, Neb., told Reuters:
"It's kind of funny the first time you see it but it works well. The big advantage to that is you can turn something you normally throw away into something that can be consumed. The amazing thing about a ruminant, a cow, you can take those type[s] of ingredients and turn them into food."
But are there any health consequences for humans from consuming dairy products from cows on a sugar high? Not exactly, as the federal government mandates strict nutritional guidelines for livestock to make sure that they're getting a healthy mix of energy, protein and nutrients. So, just as with humans, it's all about moderation.
According to the latest forecast from the U.S. Department of Agriculture, 2012 is on track to yield the smallest corn crop in six years, which undoubtedly will force farm operators to continue looking for alternative feed options.