Are you addicted to your phone?
Research shows most of us check them more than 100 times a day
While lying awake at 3:30 this morning, I did what I imagine most people in this day and age would do. I picked up my smartphone from the bedside table and checked my email, caught up on friends' Facebook posts and read a few articles online. It seemed like a harmless -- and might I say, even productive -- use of my insomnia. But most sleep experts would beg to differ. They claim that all that artificial light exposure from electronic gadgets at bedtime (or, I'm sure, worse yet, in the middle of the night) throws off your body's circadian rhythms and suppresses the production of sleep-inducing melatonin.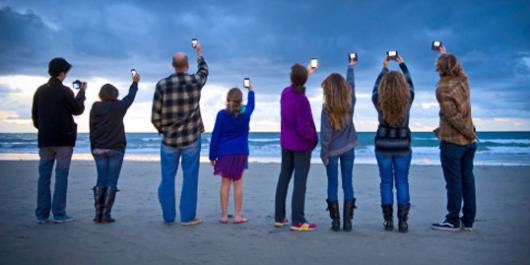 Those same experts might be losing some sleep themselves over the latest news of how addicted people reportedly are to their mobile devices. Mobile technology expert Tomi Ahonen analyzed a study commissioned by Nokia and found that people can't leave their phones alone for more than six-and-a-half minutes and check them up to 150 times a day.

Think that sounds excessive? Consider that you look at the phone to start and end every call, to type or read a text or email, to play music, set your alarm, turn off your alarm, look at the time, check the weather, compose a tweet, play a game, look up the name of the actress in the made-for-TV movie you're watching, etc., etc. See? It adds up.

And this addiction may be wrecking more than your sleep. A study published recently compared cell phone use (or perhaps, abuse) to other consumption pathologies like compulsive shopping and credit credit-card misuse. The study's lead author, James Roberts, Ph.D., a professor of marketing at Baylor University, wrote:

"Cell phones are part of our consumer culture. They are not just a consumer tool, but are used as a status symbol. They're also eroding our personal relationships."

So I guess the next time I can't sleep, I should shelve the phone, go get myself a glass of warm milk and try to meditate for a few minutes. But what if I still can't sleep because I'm fretting about whether I should be watching a cute new cat video on YouTube? Ah, the dilemmas of our times.