Dads enter the boob wars
To breast-feed or not to breast-feed — should Dad get a vote?
The presidential election is finally behind us, but there are still plenty of topics up for ongoing debate. One that consistently gets moms — and apparently many dads, too — riled up  is the decision about whether or not to breast-feed.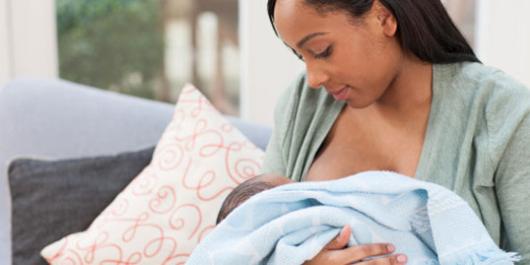 It may seem like a straightforward sort of decision for a new mother, with the argument being "This is my body, I'll decide what to do with my boobs." But as any mom knows, it is definitely not that simple. First, there's tremendous social pressure these days to breast-feed. In certain circles, admitting that you're not nursing your newborn ranks up there in the bad-parenting pantheon, right along with feeding your kids fast food while they're watching TV. And there is plenty of scientific evidence in favor of breast milk for babies — studies have linked it to myriad health benefits including better brains and heartier immune systems.

So it's no wonder that many women decide to breast-feed. The question is does Dad get a say in the decision? It's delicate territory for sure. If a father doesn't support breast-feeding (even for a good reason, like he wants to be able to take over the middle-of-the-night feedings to give Mom some rest), it may seem as if he's saying he doesn't want what may be healthiest for his baby. But if a dad is so emphatic that breast is best — and doesn't want the mom to quit even if the process isn't going well — does that make him the bad guy? Or should he just keep his mouth shut?

I guess that kind of depends. Not many guys are willing to go public on this issue. My husband encouraged me to persevere with breast-feeding for longer than I probably would have if I hadn't taken his opinion into account. Ultimately, I'm glad I did, and my daughter may have reaped an extra month's worth of breast milk benefits thanks to that.

But guys, if you are going to speak up, make sure you're doing it for the right reasons. One writer recently opined on the topic for The Atlantic , and, not surprisingly, received some harsh backlash. One of the things for which the writer got taken to task was admitting that after he and his wife switched to formula they were able to go away for a weekend without the baby. I agree that alone is no reason to make the switch, but being able to take a break from baby sure is a nice perk (for both parents). But if your hormone-addled, guilt-stricken wife is struggling and breast-feeding really isn't working for her and the baby, a few very gentle suggestions may be in order.
            As psychologist Diane Sanford, one author of Life Will Never be the Same: The Real Mom's Postpartum Survival Guide,  told me: "The most important thing for a baby is to have a happy mother, not how much breast milk the baby gets." And I'm willing to bet that having a happy dad doesn't hurt either.