Does marriage make you fat?
New research finds that after the vows, come the pounds.
Finally there's some news about marriage that's sure to make my single friends smile. For years, they've had to hear about all of the research that says that married people are healthier, happier and live longer than those who are without a partner. But now there's this: Those who are happily married are also fatter than single folks.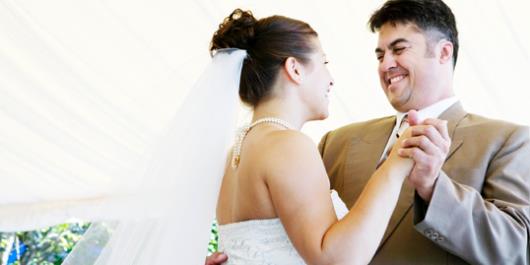 But the key word here is "happily." According to a study just published in the journal Health Psychology, newlyweds who are satisfied with their partners and psyched about their freshly minted marriages are more likely to gain weight in the years following their weddings than are their dissatisfied peers. The study followed 168 couples in their first marriages over the course of the first four years post-wedding.

So why are happy couples packing on the pounds together? Apparently, it's because they're too happy to bother taking great care of themselves anymore. According to lead researcher Andrea L. Metlzer, an associate professor in the SMU department of psychology at Southern Methodist University, Dallas, "On average, spouses who were more satisfied with their marriage were less likely to consider leaving their marriage, and they gained more weight over time. In contrast, couples who were less satisfied in their relationship tended to gain less weight over time." (Presumably, because they want to stay attractive enough to get back on the market if need be.)

This new information runs counter to lots of previous research about how being in a quality relationship comes with numerous health benefits — like better mental health, longer life expectancy  and lower risk of cancer and heart attacks. Because if your marriage ends up making you fat, you're now courting a whole new set of negative health consequences. Being overweight increases your risk of a variety of issues — from heart disease to diabetes to cancer.

While it's great that the newly, and happily, married are so comfortable and content with each other that they stop obsessing over every ounce, there should be a happy medium somewhere between starving to squeeze into your wedding dress and tucking into a post-honeymoon Big Mac. Remember, you need to stay thin, not just be attractive to potential mates, but because if you don't, you may not be around long enough to enjoy your married life.

More on Healthy Living

When 'I love you' means the opposite
Pot is a gateway drug -- to nicotine
Shrinking with age isn't inevitable