Why women should shop in heels
Want to avoid buyer's remorse? Force yourself to focus on balance.
Like most women (and probably more men than are willing to admit it), my closet is filled with things I rarely -- if ever -- wear. Many of these unfortunate wardrobe choices were the result of bargain shopping. Confronted with prices too good to resist at sample sales or discount stores, I brought home items I shouldn't have.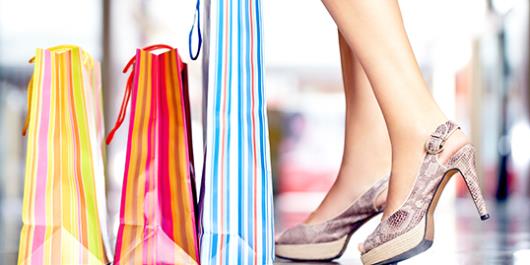 But the more distressing unworn purchases are the pricy ones. Hiding in the back of the closet is the shoe of the season I splurged on (but couldn't walk in) and the "it" bag that was too small for work, too big for a night out.
While I've gotten better over the years at buying only what I truly love and will truly wear, I've often wondered how I can completely eliminate buyer's remorse from my shopping excursions. Finally, scientific researchers have
come up with a solution
.
The answer, according to a new study, is to wear high heels while you shop.
Researchers at Brigham Young University found that doing anything that increases your sense of balance leads you to make more balanced purchasing decisions. For example, instead of skimping on a low-quality, too-small TV or splurging on an oversized, over-priced one, the well-balanced shoppers chose something appropriately middle ground.
For the study, subjects were put in various situations that involved
using balance
while engaging in shopping-related decision making.  In one scenario, subjects were leaning back on chairs while they shopped online. In another, they played a Wii Fit game while answering questions about product choices. And in a third, subjects were required to stand on one foot while deciding which printer to purchase.
According to their results, the researchers theorized that anything that forces your mind to focus on balance can have a positive effect on your shopping choices. "If you're someone who tends to overspend, or you're kind of an extreme person, then maybe you ought to consider shopping in high heels," suggests the study's lead author Jeffrey Larson, a marketing professor at BYU.
I'm not sure I'll necessarily make smarter decisions if I shop in high heels, but I may save money just by having to cut the buying spree short. I simply don't have the stamina to walk that far in stilettos.