Spanking is bad for all kids
Time-outs work just as well, without the loss of trust and other drawbacks.
To spank or not to spank? The research on spanking children for misbehaving over the past 50 years has changed remarkably, but parents' actions and attitudes haven't always followed suit. Spanking was once a common and accepted way to discipline children, but doctors and psychologist generally recommend against it.
New research
suggests that spanking is not only ineffectual but that it's harmful to most kids, across the board.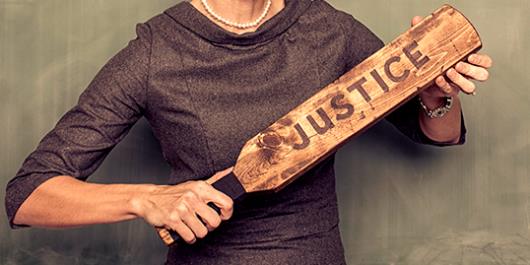 Dr. Elizabeth Gershoff at the
University of Texas at Austin
published an article recently titled "Spanking and Child Development: We Know Enough Now to Stop Hitting Our Children." The research, discussed in depth by
Psychology Today
 contributor Darcia Narvaez, looks at how spanking affects the behavior of children who've been spanked.
The children studied include those who misbehaved in the short term, those who misbehaved over the long term and those who exhibited aggression. Researchers found that children who misbehaved and were spanked did change their behavior in the short term, but that time-outs worked just as well in 30 different scenarios in which a mother asked a child to perform a task or exhibit a behavior. So if time-outs work just as well in the short term, why not use them?
Researchers also found that over the long term, spanking did less and less to turn around disobedience. Partly it's because spanking, though harsh, is inconsistent, and a parent cannot "catch" every single incident of the misbehavior. Narvaez points out that every time a child touches a hot stove burner, for instance, the burner is hot, so in a consistent instance like that, a "punishing" action results in a change in behavior. But more than that, spanking does nothing to show how to substitute undesirable behavior with desirable behavior, and even very young children pick up on that.
"Children learn positive behaviors from practicing actions that work, ones that lead to a sense of belonging and competence," Narvaez says. "They internalize what they practice and what their family practices. They learn reasons for their actions from what they hear and are told, but active practice has the deepest impact."
Lastly, Gershoff's research shows that spanking a child who is being aggressive not only does not reduce the likelihood of the child's becoming less aggressive with time, it results in the child's becoming more aggressive. "Spanking predicted increases in children's aggression over and above initial levels [of aggressive behavior]," her study says, and "in none of these studies did spanking predict reductions in children's aggression over time."
Finally, spanking erodes trust. Children begin not to trust parents who spank.
Narvaez says, "[Children] build a self-protective shield around themselves in terms of relationships generally. Children increasingly mistrust the motives of others and become more threat-reactive. Spanking leads to aggressive expectations; children are ready to aggress first before they are aggressed against."
Parents who want to learn tips and methods to stop spanking and substitute more positive disciplinary actions may want to visit the resources section of
StopSpanking.org
. After all, it's never too late to become a more effective parent.