Could vacuuming more make you weigh less?
There's new evidence that we're burning fewer calories doing housework these days.
I like to think of myself as anything but sedentary. I get out to run or hike several times a week, and I to get up from my desk to stretch or even do a couple of stomach crunches once or twice during the work day. Oh, and did I mention I have a toddler? (Anyone who's ever seen one of those in action understands why I don't get to sit still for long.)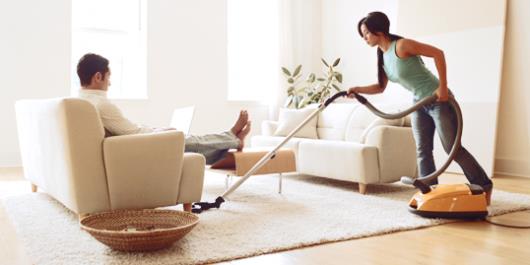 But I will confess that I burn very few calories doing housework — mainly because I pay someone else to tackle the majority of our home's vacuuming, dusting and scrubbing. And, apparently, I'm not alone in my avoidance. In 1965, American women spent an average of 25.7 hours a week on household chores (including cleaning, cooking and laundry). By 2010, we were spending a mere 13.3 hours a week at these pursuits.
Wonder what we're doing with all the extra time we no longer spend cleaning? We've swapped it for time in front of the tube, apparently. As hours spent on housework declined, there was a corresponding uptick in time spent watching television — about eight hours a week in 1965 compared to 16.5 hours a week in 2010.
The newly released study that generated these figures looked at time-use diaries from thousands of both working women and those who stayed home. And, not surprisingly, they found that with this switch to more sedentary time at home, women were burning significantly fewer calories. Modern working women burned about 132 fewer calories at home each day than did their counterparts in the '60s. And stay-at-home types' caloric expenditure dropped a whopping 360 calories per day. (And that doesn't even begin to take into account how many more calories we're consuming during all that TV watching time!)
So, is the solution that we all need to fire up our vacuums more often? Thankfully, no. Doing housework today — due to new lightweight, efficient tools — isn't the exercise it once was. We do need to spend less time sitting (in front of the TV and otherwise) and more time being active, however. But you already knew that.
The researchers have all the usual suggestions — walk to the mailbox, play ball with the dog, chop vegetables for dinner instead of buying something ready-made. And if you're still having a hard time coming up with ways to stay more active around the house, I'm happy to lend you my toddler.