The older dad debate
Does dad's age matter less than mom's?
The New York Post broke the news yesterday that Steve Martin recently became a first-time father, at age 67. And my guess is that he'll get many more "Atta boys" than he will hear "What were you thinking having a kid at your age?"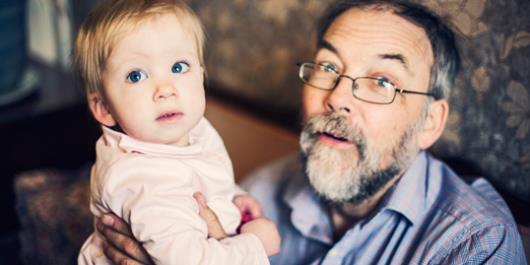 Personally, I'm thrilled for Martin and his wife. I bet he'll be an awesome dad. As for his age, well, I'd like to think that's his business. Just because the average life expectancy for a guy is about 75, it doesn't mean Martin might not live to be 100—just as someone who becomes a parent at 25 could die in a tragic car accident five years later. But what does irk me is the societal double standard when it comes to the acceptable ages at which to become a mom versus a dad.

Thanks to the biological fact that they continue to produce fresh sperm throughout their lives, men are physically capable of becoming fathers at any age. Women, on the other hand, are born with all the eggs they'll ever have, and those eggs have a definite expiration date. And even though technological advances -- such as IVF, egg freezing and the use of donor eggs -- have allowed women in their 40s (and sometimes well beyond) to have babies, the idea isn't always without controversy. 

When an actress anywhere north of 40 announces her pregnancy, the buzz quickly progresses from talk of her baby bump to gossip about her age. For example, when Nicole Kidman had a daughter (via surrogate) at 43, talk was rampant about her fertility, why she used a surrogate and potential risks of conceiving at her ripe old age. And the news a few years ago of a New Jersey woman having twins at 60 caused absolute outrage about her "selfishness" for having a child so late in life.

Yes, there are risks associated with late-life motherhood -- an increased likelihood of genetic defects for baby and pregnancy complications for mom. But late-life fatherhood has also recently been linked to an increased risk of autism and schizophrenia for the offspring.

Yet barely anyone bats an eye when a guy in his 50s, 60s or even 70s fathers a child, while simultaneously raising disapproving eyebrows over any woman who even slightly pushes the age limit. I never thought I'd be one to lie about my age, but I'll admit that after becoming a mom at "forty-something," I've become increasingly vague about the exact number!

More on Healthy Living:
Babies after 40
12 myths about pregnancy
9 natural fertility boosters


Are you sure you want to delete this comment?