Teen fights can damage IQ
Teen brain injuries can cause dramatic loss of intelligence in later years.
While there are lots of great reasons to teach your kids conflict-management skills,  fights have long been seen as a rite of passage for teenagers. "Boys will be boys" is a common parental reaction to fighting, though parents generally insist on apologies to the wronged parties. Usually the worst effects are black eyes or split lips -- or so we believed until recently.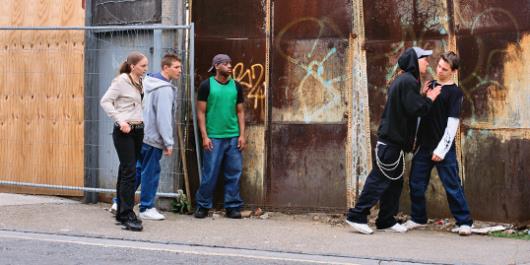 We've learned in recent years how horrific injuries to the developing brain can be when teens play football -- even with helmets. And this summer, researchers found that even kids who headed soccer balls saw noticeable brain injuries.

Now Medical News Today reports on a new study in the Journal of Adolescent Health, whose headline is about as terrifying as any in a medical journal: "Serious Fighting-Related Injuries Produce a Significant Reduction in Intelligence."

Researchers at Florida State University are among the first to take a long-term look at the effects of fighting on brain health and intelligence, with their studies spanning about six years, or until the middle-schoolers and teenagers in the study had reached adulthood. Of the teens who had gotten into even a couple of physical fights -- and nationally, the statistics are that about 1 in 20 teens get into fights -- there was a measurable and dramatic loss of intelligence, as measured by IQ points.

The researchers found, not surprisingly, that far more boys get into fights than girls do. But they also found that the loss of IQ was far more dramatic for girls who got into fights. Each fight-related injury caused a drop of 1.62 IQ points in boys, and a shocking drop of 3.02 IQ points in girls. And when the researchers looked at just those who suffered head and brain injuries in fights, the IQ losses were even sharper.

The greater loss and impact on girls, the researchers believe, is because of "physiological differences that give males an increased ability to withstand physical trauma."

Even the researchers expressed shock at the significant long-lasting effects of the brain injuries. "It's no surprise that being severely physically injured results in negative repercussions," the study said. "But the extent to which such injuries affect intelligence was quite surprising."

All of which should be sobering news for parents, who should encourage kids to just walk away from a fight. Their brains will thank them later.

More on Daily Apple
Pot smoking may cause permanent brain damage
TV and tots? Let's not
Scientists grow new teeth out of urine


Are you sure you want to delete this comment?