Walking vs. running
Turns out both are equally good for your health.
I've been a runner for years. And nothing beats the feeling I get when I go for a run -- especially on one of the beautiful trails I'm lucky to live near. And I will admit that back in my more ambitious running days (when I trained for and ran several marathons), I had a slightly snobbish attitude about my sport. Running was obviously real exercise. But walking? That was something for old ladies and the extremely out of shape.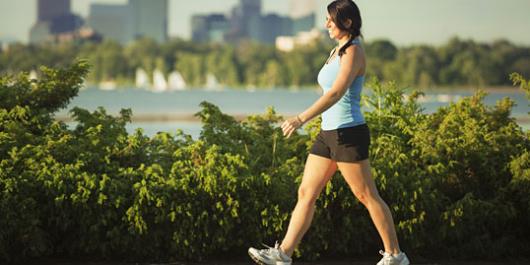 Well, apparently, it's time to rethink my snobbery, because
the latest news
is that walking is actually as good -- if not better -- for your health than running. 
A new study
looked at data on 33,000 runners and 15,000 walkers (ranging in age from 18 to 80), calculating their energy expenditures, and looking at their health problems over a period of six year. What the researchers found is that, while the runners lowered their risk of heart disease by 4.5 percent, the walkers lowered theirs by a surprising 9.3 percent. Similar statistics emerged when it came to risk of high cholesterol, blood pressure and diabetes -- with the walkers surpassing the runners on all of these health markers.
But before you trade your running workouts for a leisurely stroll around the block, there is a catch. To reap these sorts of health benefits, walkers have to expend as much energy as runners. In other words, a leisurely stroll isn't going to cut it.
You've got to move briskly during your walk, and probably you'll need to be out there for longer than you planned. The researchers estimate that it would take about twice as long to expend the same amount of calories walking as running. So instead of a 3-mile jog that has you outside or on the treadmill for 30 minutes, give or take, you'd need to walk 4.3 miles -- which could take over an hour.
So while this study offers some good news to those whose joints just can't stand the idea of running, it's also further proof that there is no health magic bullet. You've got to work for those benefits -- whether you do it at a running or walking pace.
Personally, not only do I love running, I simply don't have time to double the duration of my workouts!