Can't sleep? Blame the moon
Lunar cycles may impact sleep cycles, according to a new study.
A full moon gets the credit -- or blame -- for all sorts of otherwise inexplicable phenomena. It supposedly makes pregnant women go into labor (witness the recent royal birth, which coincided with the full moon), wrecks your sleep, makes your dog go crazy and, of course, brings out werewolves.
But until now, there was little, if any, science to back up these claims. In a small study just published in
Current Biology
, researchers in Switzerland set out to test the commonly held belief that it's harder to get a good night's sleep when the moon is full.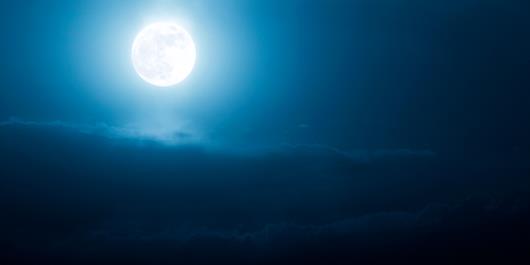 Researchers recruited 33 volunteers and
analyzed them while they slept
, monitoring their brain patterns, eye movements and hormone secretions. 
What they found surprised them. During the nights around the full moon, the study subjects took five minutes longer to fall asleep, slept 20 minutes less overall and had lower levels of the hormone melatonin (which regulates sleeping and waking cycles). Further, their brain activity related to deep sleep dropped by a whopping 30 percent.
Any syncing of our own biorhythms with the phases of the moon is likely an evolutionary holdover. These days we're so surrounded by sources of artificial light that it's easy to not even see the moon, let alone take note of what phase it's in.
The researchers say they would like to delve deeper into this connection between lunar rhythms and human sleep cycles to find where in our bodies this circalunar clock exists and what its molecular and neural underpinnings are. By doing so, they hope to discover other aspects of our behavior and brain activity that may be influenced by the moon -- such as our moods or mental performance.
According to the calendar, the next full moon falls on Aug. 21. So rest up before then in preparation for a couple nights of more fitful sleep. Oh, and watch out for werewolves, too.
More on Daily Apple
Can't sleep? You're not alone
Are you addicted to your phone?