Are you safe in the city?
New research says yes, urban beats rural when it comes to safety.
Having spent most of my formative years in Manhattan, it was a shock to the system when I moved to a small mountain town out west. To me, safety was always about numbers. In New York City, you never wanted to walk down a deserted street, and the more people I saw around me, the safer I felt. But suddenly, I had to figure out how to feel secure in a place where I was often the only person around -- seemingly for miles.
Even though it's been about a decade since I left the Big Apple, I still feel safer in the city for the most part than I do in less populated places. And now, I've got research that backs up that intuition. A new study  to be published tomorrow in the
Annals of Emergency Medicine
, reveals that -- contrary to common perception -- large cities are actually significantly safer than rural areas.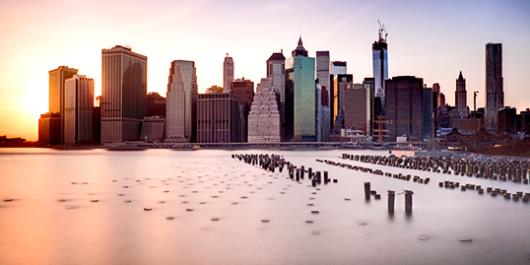 Researchers at the University of Pennsylvania analyzed over 1.2 million injury deaths that occurred between 1999 and 2006. And they found that the risk of dying from an injury was 22 percent higher in rural counties than in big cities. The biggest death threat was car accidents -- for people who live in the country, about 28 out of every 100,000 people die in a car crash, but for city dwellers, it was only about 11 out of 100,000. Guns are another big issue when it comes to accidental death, but that risk was about the same for both the country and the city (although it's worth noting that kids in rural areas had significantly higher rates of firearm-related deaths than did city kids).
Speaking of guns, I know you're thinking, what about murder? Isn't the risk of that so much higher if you live in a city versus a peaceful, bucolic rural town? And while yes, it's true that there are more homicides per capita in cities than in rural areas, your overall risk of getting murdered is actually pretty low no matter where you are. As the lead author, Sage Myers, MD, wrote: "The rate of unintentional injury dwarfs the risk of homicide, with the rate of unintentional injury more than 15 times that of homicide among the entire population."
So staying safe may be less about watching your back than it is watching out for cars (no matter where you live!).
More on Daily Apple
Menu calorie counts don't promote better choices
Why mosquitoes love some more than others
Is intense exercise bad for you?