If I'm prone to headaches should I cut out caffeine?
Caffeine and headaches have a complicated relationship.
Turn to MSN's Ask A Doctor blog every day to find answers from top experts to all of your health concerns. Have a health issue or just curious? Send in your question today.
Caffeine can really be a double-edged sword when it comes to headaches. It can help alleviate the pain of a headache you already have (which is why you'll find it on the ingredients listing of many headache medications), but the lack of it can also cause some throbbing pain.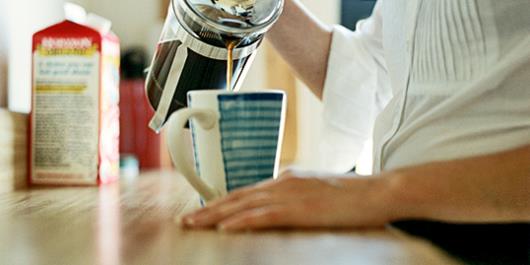 "Many people find that they do best when they're almost religious about their caffeine intake—having a moderate dose at the same time every single day," says Andrew Charles, MD, professor of neurology and director of the UCLA Headache Research and Treatment Program.
What definitely isn't good for your head is to try to cut out caffeine cold turkey. "Caffeine withdrawal is a very common cause of headache," says Charles. "You need to taper off of it very slowly over time." And in addition to cutting your coffee with decaf, you might want to consider popping some pre-emptive pain medication every morning until your body gets used to not having any caffeine. Just be sure to check the label first and make sure you're not accidently dosing yourself with caffeine along with the painkiller.
More on MSN Healthy Living
Is flossing every day really necessary?
Are teeth-whitening kits safe?
Will medication improve sex life?