What's causing my bad breath, and how do I cure it?
Whether it's caused by garlic or gingivitis, there are remedies for smelly breath
Turn to MSN's Ask A Doctor blog every day to find answers from top experts to all of your health concerns. Have a health issue or just curious? Send in your question today.
Stinky breath can have many causes. One of the most common, and easily remedied, reasons for having bad breath is eating something stinky. If your lunch contained a lot of onion, garlic or other pungent flavors, there are some simple treatments for freshening your breath before it offends everyone at your afternoon meeting. "Chew on a sprig of parsley together with a mint leaf," suggests Dr. Jennifer Jablow. a NYC-based cosmetic dentist. "The chlorophyll in the parsley helps freshen breath, and the mint will help neutralize odor."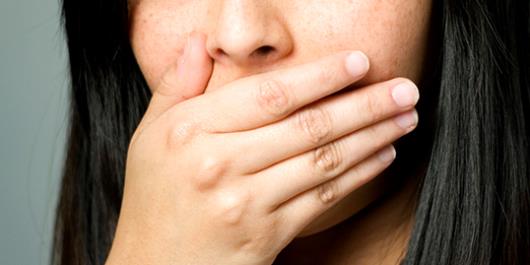 Another common cause is dry mouth. "Saliva production is very important for helping to keep breath from getting smelly," Jablow says. That's one reason she discourages patients from using mouthwashes that contain alcohol. "The alcohol dries out the mouth, causing a rebound effect of even worse breath," she says.
But there could also be some serious reasons for your smelly breath. Gum disease, acid reflux and post-nasal drip can all be culprits. So if your bad breath is chronic, see your dentist to check for gingivitis; she can refer you to another specialist if she suspects a nondental cause.
Dr. Jennifer Jablow is a cosmetic dentist in New York City who is well-known for creating the gorgeous grins of many celebrities. Find her on Twitter and online.
More on MSN Healthy Living
Is flossing every day really necessary?
Are teeth-whitening kits safe?
Will medication improve sex life?